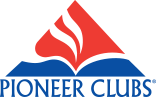 PIONEER CLUB is our weekly children's ministry that meets on Tuesday from 3:15-5:15 pm from September through April!
Doors open at 3 pm.
Check out Pioneer Club this year at First Baptist, Wellsboro...
A fun, Bible-based, Christ-centered program!

Ages 4 - 12 years old!
Your child will have fun and be engaged in a program designed to foster spiritual growth, run by background-checked individuals who love the Lord and care about your child's spiritual development. This is no mere "Sunday School" held during the week. Pioneer Clubs has tons of great learning activities and fun, with material that's aimed to speak to children on their level.

Bring your child to Pioneer Club. We have a great time learning about the Lord!
If you preregister, you won't have to stand in line and fill out a form on your child's first day with us, so please take a moment to PRE-REGISTER ONLINE .
SPECIAL COVID-19 STATEMENT - PLEASE NOTE THE FOLLOWING:

Due to the apparently less virulent nature of COVID at this time, we are no longer recommending the use of facial masks for volunteers or students. Also, our staff will not be taking temperatures of children upon entry at this time. However, if students or volunteers exhibit cold or flu-like symptoms, our staff may take the temperature of the symptomatic individual to determine if a fever is present. We politely ask that students who are symptomatic with a cold, flu or another transmissible illness be kept from attending Pioneer Club. Thank you!