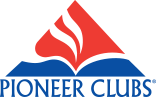 Begins September 14!
PIONEER CLUB is our weekly children's ministry that meets on Tuesday from 3:15-5:15 pm (Sept 14-April) from September through April!
Doors open at 3 pm.
Check out Pioneer Club this year at First Baptist, Wellsboro...
A fun, Bible-based, Christ-centered program!

Ages 4 - 12 years old!
Your child will have fun and be engaged in a program designed to foster spiritual growth, run by background-checked individuals who love the Lord and care about your child's spiritual development. This is no mere "Sunday School" held during the week. Pioneer Clubs has tons of great learning activities and fun, with material that's aimed to speak to children on their level.

Bring your child to Pioneer Club. We have a great time learning about the Lord!
If you preregister, you won't have to stand in line and fill out a form on your child's first day with us, so please take a moment to PRE-REGISTER ONLINE .
SPECIAL COVID-19 STATEMENT - PLEASE NOTE THE FOLLOWING:
We plan to take the following actions to make the Pioneer Club environment safer for participants but WE CANNOT
GUARANTEE complete safety or prevention of virus transmission. Your signature below is your acknowledgement that
you a) understand what measures we plan to implement, b) acknowledge that these measures may be insufficient to
prevent transmission of the coronavirus, c) consent to have your child participate in Pioneer Club, and d) that you will
hold harmless First Baptist Church, it's officers, employees, and volunteers in the unfortunate event that your child(ren)
contract COVID-19 and develop any of its complications. Further, you agree that if a child or ANYONE ELSE in your
household is symptomatic of COVID-19 (e.g. fever/chills, cough, trouble breathing/shortness of breath, loss of taste or
smell), you will keep ALL children from your household home and not bring them to Pioneer Club until such time as a
physician clears them to return.
First Baptist Church plans to...(1) have daily temperature checks when children arrive, (2) make hand sanitizer available
and encourage its use when children arrive and before snacks, (3) promote (but not guarantee) physical distancing during
activities WHERE PRACTICABLE, and (4) have kitchen staff wear gloves, masks and/or face shields to prepare snacks.
By signing my FULL NAME below, I certify that I am the parent or legal guardian of the child being registered, that I
have the legal authority to sign this document, and have read and consent to all of the above information and agree to have
my child(ren) participate in First Baptist Church's Pioneer Club.